About the Safer Neighbourhoods Partnership

About the Safer Neighbourhoods Partnership
The Safer Neighbourhoods Partnership is the Community Safety Partnership (CSP) for North Lincolnshire and arose out of the Crime and Disorder Act 1998. CSPs are partnerships between the emergency services, local authorities, public, private, and voluntary sector agencies that work together to reduce crime, disorder and substance misuse. There are 370 such partnerships across England and Wales.
What do we do?
On behalf of the North Lincolnshire Partners Safer Neighbourhoods is responsible for the delivery of the Community Safety Strategy. Although there are no central government targets the partnership has adopted a number of targets agreed between the police and the police authority as a means to measure performance. It all sounds pretty dry and boring, but what do we really do?
In practical terms, we:
Collate information from the Police, Local Authority, Health Service and a broad range of other sources about crime, disorder and substance misuse in North Lincolnshire.
Conduct surveys of local residents
Analyse the information we collect to make sure that the Partnership's perception of crime reflects public views as well as recorded statistics.
Devise and implement a rolling three-year plan that contains measures to tackle those priority issues identified.
All well and good, but what does it mean in real terms?
Safer Neighbourhoods has two main strands of business – crime reduction and substance misuse.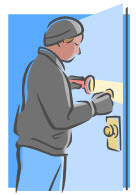 Crime Reduction looks at ways and means of working with local people and local communities to reduce crime and, at the same time, reduce the fear of crime. This can take many forms; for example if our analysts have identified a hotspot area where sneak in burglaries is being carried out, leaflets will be produced and delivered door-to-door in that hotspot area, to warn residents to keep their doors and windows locked.
We can also provide residents associations or community groups with Alert Boxes which can help people or groups feel less isolated and empower them to deal with the problem. AlertBoxes allow the user to send messages to other users in the group to warn them or to request help. See our page on AlertBoxes for more information [input link here].
What else do we do?
We have a Neighbourhood Watch Development Officer who helps local communities set up Neighbourhood Watch Groups. See our page on Neighbourhood Watch for more information [input link here].
There is an Antisocial Behaviour Panel who work with professionals to identify those people causing antisocial behaviour and disruption to their communities. See our page on ASB for more information [input link here].
Unfortunately domestic abuse is a fact of life and we have a Domestic Abuse Strategy Manager who co-ordinates, educates and generally works with all our partners to provide a support network for the victims of domestic abuse. For more information click here
We also work with our partners to make the Town Centre a safe and fun place to be when people are on a night out by providing the NiteSafe scheme. For more information go to [input link here].
Our officers also work very closely with businesses (ShopWatch) for the daytime economy and bars, pubs and clubs (PubWatch) for the nightime economy.
Our Safer Neighbourhoods Officers have responsibility for the five main areas of North Lincolnshire, namely Barton & District, Brigg & District, the Isle of Axholme, Scunthorpe North and Scunthorpe South. Our Safer Neighbourhoods Officers work closely with communities and our partners to tackle local problems.
Substance Misuse - What has drinking or taking drugs got to do with Safer Neighbourhoods? Quite a lot actually. If someone

has a chronic drug problem they usually fund their habit by stealing – whether its breaking into houses or shoplifting or stealing cars, crime is the preferred (and sometimes the only) way of buying drugs. This not only impacts on crime figures and fear of crime, but it also affects the cost of insurance for our homes. Safer Neighbourhoods commission a team of dedicated substance misuse workers (telephone number 0808 143 0640) who work closely with drug misusing offenders. If you would like to know more about where you can access help and support then click here.
The team also run Direct Access, a drug and alcohol advice service which is available to members of the public who may have a drink or drug problem and would like advice. Please drop in at Step Forward (CGL), 189 - 195 High Street, Scunthorpe, between the hours of 10am – 4pm Monday to Friday, or call 01724 857633.
Alcohol is also a problem – drunks sitting on walls abusing passers-by, or young people congregating on a Friday night passing round a cheap bottle of vodka or strong cider will be dealt with by the police and other agencies in the first instance, but the Step Forward team who provide outreach workers and an alcohol service to help people who have an alcohol problem and want help with their addiction – again if you would like to know more about the service then follow this link.
How we work
We work together at a number of different levels to improve community safety in North Lincolnshire. From an executive boardroom to a resident's living room, Safer Neighbourhoods activity takes many forms. For example we:
Meet together at a strategic level to discuss changing trends in crime and drug use.
Share information and ideas about crime and drugs
Try to improve ways in which existing services are delivered.
Commission substance misuse treatment services and crime reduction measures.
Work together with residents and voluntary groups on specific neighbourhood problems
How we are organised
The Safer Neighbourhoods Strategy Board leads the Partnership.
Multi Agency Task Groups are formed to lead the partnerships activities on priority themes such as violent crime, domestic abuse and anti-social behaviour. These are assisted by Project Teams that work on specific issues or in particular locations.
Much of our work centres around working with local people on community safety problems within North Lincolnshire. We do this by bringing together Neighbourhood Action Teams (NAT's) [input link here] at neighbourhood level and support these with Safer Neighbourhooods Operations Group which works across North Lincolnshirel. There are 17 NAT's in North Lincolnshire one for each ward.
There are numerous other organisations within the wider Partnership and these make up our Safer Neighbourhoods Forum from which our teams are formed.
How our work is funded
Funding for our Safer Neighbourhoods activity comes from a number of sources such as the Public Health Grant, Government's Safer and Stronger Communities Fund, partner members and the many organisations and individuals who commit staff, volunteer time and other resources to our activities.
The Safer Neighbourhoods Hub
The Safer Neighbourhoods Hub is based at Shelford House, Shelford Street, Scunthorpe (opposite the main Scunthorpe Police Station). We are a small multi-agency team whose role is to help, guide, facilitate and support Safer Neighbourhoods activity across the crime, disorder and substance misuse agendas. Our staff are drawn from North Lincs. Council, Humberside Police, The National Probation Service, Community Rehabilitation Company, the NHS, specialist drug and alcohol service providers and, of course, volunteers.