Partnership & Community Development
Community SpeedWatch
Nobody likes to have cars speeding down streets especially with the risk of a child running out from between parked cars. Through our Neighbourhood Action Teams it became very clear that this is a very important issue for residents and communities alike across the county.
S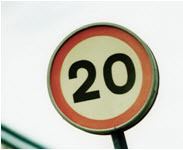 afer Neighbourhoods and the Road Safety Partnership (whose members include Safer Neighbourhoods, North Lincs Council, Humberside Police, Humberside Fire & Rescue Service, East Midlands Ambulance Service as well as its associate members HM Coroner's Office, TATA Steel and Scunthorpe Telegraph) worked closely together and produced the North Lincolnshire Speed Management Strategy which looked at the overall problem in the county, surveyed a number of locations and allocated a score.
Twenty-one (21) locations were identified as 'hot spots' and the Road Safety Partnership put in various measures to control speeding vehicles, but there were a number of other locations which didn't quite rank as 'hot spots' and so they became eligible to become part of the Community SpeedWatch scheme.
How does it work?
If an individual, community, Neighbourhood Watch Group or Neighbourhood Action Team identifies a street or road which seems to be irresistible to speeding motorists they can contact either their local neighbourhood police officer, or their Safer Neighbourhoods Officer who will arrange for a Safer Roads officer to visit the street or road. If it is felt that there is a problem then the Safer Roads officer will liaise with the local Town or Parish Council and arrange (at a cost) for a flashing speed sign to be erected. These signs can be hired or bought by the Town or Parish Council and more details can be found on the 5 Minute Guide to Community SpeedWatch
The beauty of the flashing signs is that they actually record the speed of the passing vehicle as well as the time and date – this data can then be downloaded and analysed. Obviously if it is only the occasional motorist doing 40mph on a 30mph road then no action will be taken. However if the data shows that during certain periods/days boy racers are using the street as a race track the intelligence can be passed to the police who can the set up speed traps or cameras to catch any unwary motorists (or boy racers) who are happy to ignore speed limits.
Remember Community SpeedWatch is there to help local people tackle local problems.
Drive Safely!