Our actions for White Ribbon Campaign
Our actions for White Ribbon Campaign
Wearing a white ribbon is a personal pledge never to commit, condone or remain silent about violence against women.
We intend to continue work all year round towards the White Ribbon Campaign and this page shows all the things that we are doing to raise awareness of this issue. We will be urging men and boys to wear the White Ribbon throughout November or at least for one or two weeks starting on 25 November to mark International Day for the Eradication of Violence against Women,and asking them to take opportunities to talk to colleagues and friends about what it stands for. Support the campaign and North Lincolnshire by signing the pledge.
Gliding Event at Trent Valley Gliding Club
On Friday 2nd September at Trent Valley Gliding Club at Kirton in Lindsey, Safer Neighbourhoods and The Blue Door are holding a glider event to raise awareness for the White Ribbon Campaign. This is taking place between 10am and 4pm with glider flights commencing from 11am.
A tour of the hangar will be available and there is a free bouncy castle and games for the children. There is a grassed area where you can watch the gliders and bring your own picnic. As part of the day people have donated to go up in a glider for the local domestic abuse service The Blue Door.
North Lincolnshire becomes a White Ribbon County
The council was presented with the our White Ribbon Plaque on Friday 8th July by Ikram Butt, a White Ribbon Ambassador and key partner of the White Ribbon Campaign.
Now North Lincolnshire has become a White Ribbon County, the council will continue to pledge to support the work of the White Ribbon campaign and 'never commit, excuse or remain silent about violence against women'.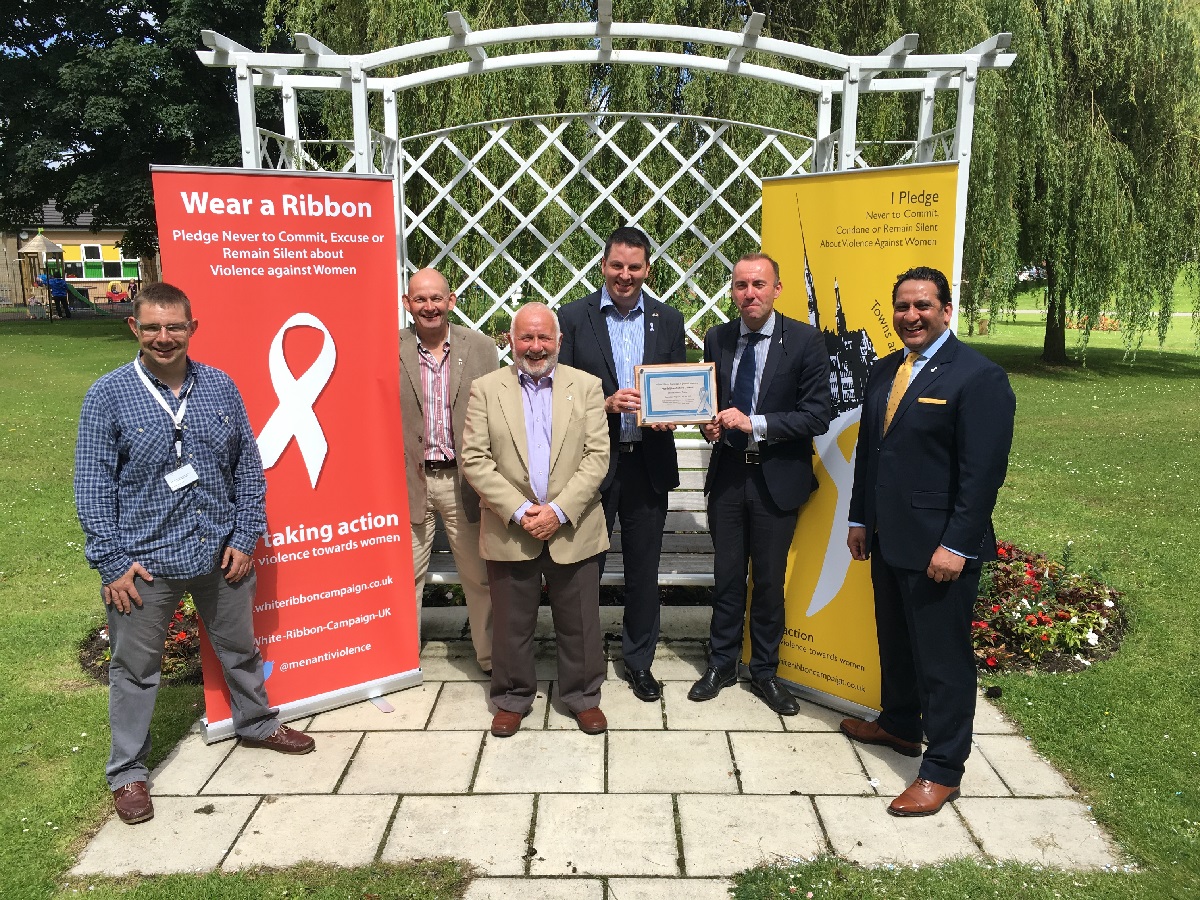 Pictured Stewart Atkinson, Councillor Richard Hannigan, Councillor Tony Ellerby, Andrew Percy MP, Deputy Council Leader Councillor Rob Waltham and Ikram Butt.
20 years of the DV Forum in North Lincolnshire
To mark 20 years since the North Lincolnshire Domestic Violence Forum was launched, the council's Safer Neighbourhoods team held an event on 9 June to celebrate the continued support from its partners.
The celebration event took place at the New Life Church, The House, Brumby Wood Lane, Scunthorpe. It was an opportunity to highlight what the forum does and look back at the progress that has been made over the years.
Here is one of our ambassadors taking part in the stalls to provide information on domestic abuse, what support is available from The Blue Door service and promoting the ethos of the White Ribbon Campaign!
Scunthorpe Half Marathon
One of our fantastic White Ribbon Ambassadors Stewart Atkinson completed the Scunthorpe Half Marathon on 17th May 2016 in a time of 02:02:25. He was wearing one of our White Ribbon t-shirts and what a wonderful achievement!!